Reduced prices on Hetalia mascots, and there are still rubber straps left I need to get rid of.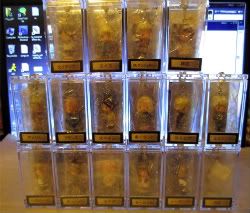 Just a few ground rules:
•I ship from USA, and I can ship international, just that shipping rates might be higher.
•I ship on Saturdays due to rl reasons.
•No prices include shipping (unless stated), comment for a shipping quote.
•I accept paypal/concealed cash only.
•Holds, maximum of three days. Payment due in 24 hours after I give you the final total. I move on to the next interested party (if there is) if any of these conditions are not met.

My feedback

Last but not least, thanks for looking~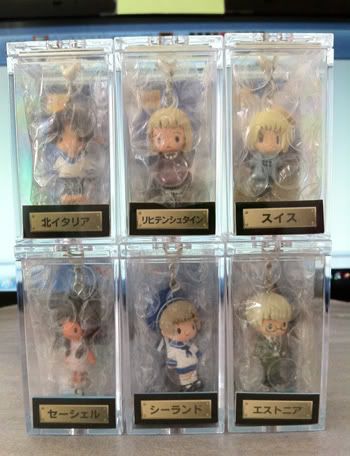 Hetalia Movic Mascots
Those avalible, from left to right, top to bottom:

|N. Italy ($15) | Liechtenstien | Swizterland
|Seychelles($15)| Sealand | Estonia ($18)

They are all brand new and I never used them/opened them. They still come with those plastic covers they were originally in.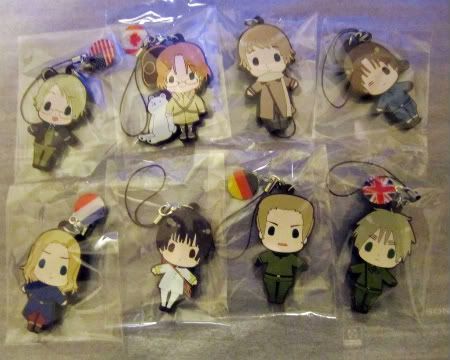 Hetalia Rubber Straps
Avalible:

Italy (x1)
France (x1)
Japan (x2)
Germany (x1)

They're all $9 each. Brand new, still in plastic. I opened the boxes to check which strap is in which box. They all still come with their boxes.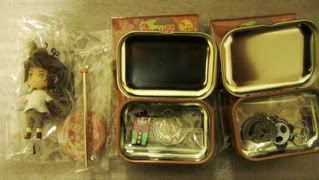 Coin Keychains (a close up picture here:
China $13

Thanks for looking!


I also pre-orderd the first generation of Hetalia OCF and second generation of OCF too. Check them out at my journal here if you're interested.

Thanks~